Can Ervin Santana Save the Orioles Offseason?
---
After bungling the Grant Balfour signing, whiffing on Bronson Arroyo, and seemingly out of the running for A.J. Burnett the Orioles still have an opportunity to improve the pitching staff for the 2014 season. As Spring Training approaches the Orioles just need to be proactive and willing to spend some money to make a positive impact on the starting rotation.
Ervin Santana remains available on the free agent market. The Orioles have been linked to the 31-year-old right-hander in recent days, but the club has also been linked to just about every possible available starter at some point this offseason. The Orioles' "interest" may just be Santana's agent hoping to drum up a market for his client.
Santana is coming off a terrific season that saw him post a 3.24 ERA, 1.14 WHIP and 127 ERA+ for the Kansas City Royals. He rebounded nicely from a disastrous 2012 campaign in which his ERA skyrocketed to 5.16 and he led the American League in home runs allowed with 39. Santana's home run-to-groundball ratio spiked from a career average of 11% to nearly 19% in 2012. Santana's 2012 season is an outlier and not a predictor of future performance. There should be some concern about Santana's fly ball tendencies and his effectiveness in Camden Yards and the AL East, of course Chris Tillman is a fly ball pitcher who has fared quite well over the past two seasons.
Santana's free agency has been negatively impacted by the draft pick compensation tied to his signing. If the Orioles sign Santana they'd acquire a solid number two starter to slot between Chris Tillman and Wei-Yin Chen but they'd have to part with their first round draft pick, an unlikely scenario given Dan Duquette's Fanfest comments about staying away from free agents and building the team through drafting and developing talent.
The Orioles would also likely need to break their self-imposed restriction on long-term deals for pitchers. Santana would probably need to take a deal that maxed out at three years, with a potential fourth year option, for the Orioles to be considered serious players for his services. The market for Santana has been painfully slow to develop due to the draft pick compensation issue, and was slowed further by the posting of Japanese ace Masahiro Tanaka. Perhaps he'll soon be desperate enough to take a shorter term offer from the O's.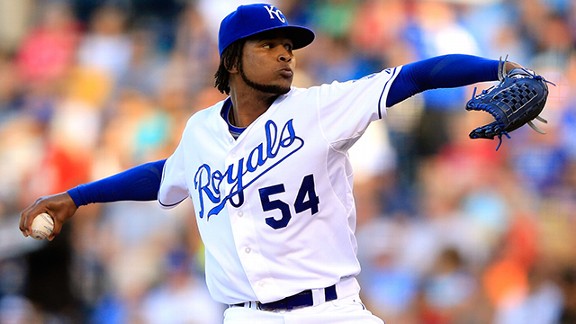 If Dan Duquette can cope with surrendering a pick, and can convince Santana to take a three year deal, and talk Peter Angelos into coughing up about $40 million dollars we could have a match. That's a lot of ifs. Here's another one: if history tells us anything, and with the O's it tells us everything, Santana will probably take a one year deal from a team like the Yankees or Cardinals while the Orioles sell Zach Britton and Josh Stinson as viable rotation options.
Follow Dan Soderberg on Twitter @dadstimeout

Check out Dan's blog at http://dadstimeout.tumblr.com/