Going Deep: Week 5
---
I gotta say, fellas (and ladies, if there are any that read this blog), I was pretty entertained by Week 4. There were some great close games (how 'bout them Giants?!) and some fantastic performances.
But before we get into the football action, per usual, let's discuss how you'll spend your pre-Sunday weekend. It's true The Ides of March is opening this weekend. But, I mean, it'll be around for a while — it is an Oscar contender after all. But with the news that the folks behind Arrested Development will be producing one more season of the fan-favorite before they get to work on their movie, I encourage ALL of you (yes, even you with the ketchup stain on your tie) to indulge in seasons 1-3 of Arrested Development. Even if you've already seen it, see it again.
Ignore my buddy Pierzy when he says you don't deserve to. Everyone deserves to be entertained, and I believe in second chances. But if you screw this one up, well, tough titty.
Alright, now that that's out of the way, let's get going with the football.
Five for Hindsight
A look back at Week 4

I'm coming out guns blazing with this one. If I were an NFL general manager and had the ability to build a franchise from scratch, the first player I would choose is Matthew Stafford. Watching him lead the Lions to a victory (and their first 4-0 start since 1990) with 17 unanswered fourth-quarter points was a thing of beauty. With the exception of Aaron Rodgers, whose offensive line and receiving weapons are superior to Detroit's), I'd say that Stafford is the most talented quarterback in the NFL. He's for sure the one with the most all-out potential. As a football fan, I think I'm in love.


Speaking of quarterbacks, I'd like to make a bold statement for a Giants fan: Eli Manning is not an elite quarterbacks. He just isn't. And it does irritate me when people — Giants fans or otherwise — try and argue his status as one of the league's elite quarterbacks. But I will say this for the younger Manning: He is one of the most effective, reliable under-pressure QBs in the league. His comeback against the Cardinals on Sunday was pretty brilliant. He's poised, collected and dependable when it counts most. Sure, those aren't words that pitch a tent for most football fans, but for a team built on the run and show-stopping defense, that's all the Giants need.


I think it's time we start talking about the Packers as a potential dynasty-in-the-making. Their plethora of weapons on offense, the strength of their defense and special teams, the sound logic behind their coaching and play-calling — all of it amounts to a team that has the potential to win back-to-back championships. And back-to-back-to-back championships. And...well, you get the idea. Their uniforms are bright, but their immediate future is brighter. (Yeah, that was corny in my head, too.)


Call me cynical, but I'm pretty unimpressed with the Patriots thus far. With the exception Wes Welker's one-man effort to make sure they make Invincible II about him, their performances thus far have been underwhelming for a team of their caliber. Tom Brady hasn't looked nearly as "elite" as he usually does and their rushing attack, while three-headed, lacks a nucleus of production. But their most glaring fault, in my opinion, has to be their pass defense. This season, they've allowed a league-worst 1,475 yards through the air and a league-worst 9.0 yards per reception. What's most glaring, though, is they've faced 168 pass attempts so far, highest in the league. Of the four teams they've faced this season — Miami, San Diego, Buffalo and Oakland — only one (San Diego) would be termed a "passing team." While it's true they're playing from a lead all season (which leads teams to pass a lot against them), the fact remains that teams that are more fond of the run are seeing that the Pats are vulnerable through the air — and they're working to exploit it. Buffalo succeeded last weekend, and it's only a matter of time before a team does so again.


Everyone's really worried about the Steelers. If it's not their offensive line, it's their running game. If it's not their running game, it's Roethlisberger. If it's not Roethlisberger, it's the under-achieving defense. Listen, this is all symptomatic of one thing: The Steelers are getting old. It's true they have a young core that tends to stay in the spotlight — Mike Wallace, Rashard Mendenhall, Antonio Brown, Emmanuel Sanders, Mike Pouncey, etc — but, overall, the Steelers are an aging team, and growing pains are common. I no longer think they're a surefire playoff team, but I don't think they're this bad, either. Give them time and they might surprise you, but don't go betting your life savings on a trip to the Super Bowl either.

Five for Foresight
A look ahead to Week 5

In the league's first bye week, we'll be seeing some interesting matchups. But one that's really sticking out to me is the Eagles-Bills contest. The Bills are playing fantastic football, while the Eagles are underperforming on almost all fronts. I'm anticipating a shootout, and I don't think we'll be disappointed.


Another great matchup is the Jets-Patriots game in the battle of Who Will Play Less Defense. The Patriots should have the Foxboro edge here, but Rex Ryan always pumps up Gang Green for games like this. Look for Sanchez to go to the air early against a struggling New England secondary, and look for the Patriots' running backs to pick holes in the a Jets 3-4 scheme that's been ripped for a league-leading six ground scores and 130.5 YPG, sixth-worst in the NFL.


The Packers are 4-0. The Lions are 4-0. One of these teams will not be undefeated come Tuesday morning. Jim Schwartz was on Monday Night Football last night talking about how Detroit is excited to be hosting a Monday Night Football game, and I think that's the extra bit of adrenaline they need to get past the Bears. The Packers, on the other hand, might be without Ryan Grant and Donald Driver, which would put that at a significant disadvantage against a Falcons team that's looking better and better each week. Come Tuesday, the Packers will be 4-1, and the Lions will be alone at the top at 5-0.


Curtis Painter and the Colts will try and eke out their first win on Sunday against the 1-3 Chiefs, and you know what? I think they can do it. Painter was serviceable under center against Tampa Bay and showed some good chemistry with his receivers. The key, though, will be Joseph Addai and Delone Carter keeping the defense honest with the run. They weren't all that successful Monday night, and I think that's why they couldn't pull it out in the end. But if Addai and Carter can combine for 100 rushing yards, it just might give Painter some space and time to improve on his rapport with his many talented receivers.


What the hell is wrong with Hank Williams, Jr.? I mean, seriously...? I want to know what ESPN is going to do before the game. Is Chris Berman just going to make some somber, low-toned apology and kick it to Mike Tirico and the gang? Will there be a musical intro sans Williams? Will Justin Timberlake be involved (he's everywhere, you know...)? So many questions!

The Tip Drill
Because, y'know, I give you fantasy tips. Get it?
I hate bye weeks. I really, really do. I really hate how I have to pick up and drop players that I like because I've got to find a replacement for my top-tier tight end. I hate the decision-making involved. I hate the roll of the dice. I hate having to say, "Man, this is tough — Jermaine Gresham or Scott Chandler." (Incidentally, I did say that exact sentence yesterday.)
But, as much as I hate how bye weeks obliterate all the planning you put into your fantasy football team, I secretly kind of love it. It separates the good from the average and it brings in the all-important element of luck into the fantasy game.
With that, I thought I'd devote a couple of Tip Drills over the next seven weeks to helping you survive the bye week.
Quarterback
The only people who should be scrambling here are Tony Romo owners. If you're starting Chad Henne, Joe Flacco, Colt McCoy, Rex Grossman or Sam Bradford, you're either in a super-deep and/or two-QB league (in which case I tip my cap to you) or you simply don't understand fantasy football (in which case I pity you).
Either way, if you find yourself in the market for a starting QB in this first of seven bye weeks, here are some names to not overlook.
Andy Dalton, QB (Cincinnati)
Kyle Orton, QB (Denver)

Both of these guys is owned in fewer than 35% of ESPN.com leagues, so they just might be out there on your FA list. I haven't been wowed by either of them this season, but I think their matchups this week have some potential upside.
Dalton draws a middling Jaguars pass defense that likely will employ a Cover-2 defense in order to weaken Dalton's connection points with fellow rookie A.J. Green, who's been shining bright of late. That's fine, let them. I like Dalton's chances of hooking up with elusive and hard-to-defend TE Jermaine Gresham (we'll get to him soon). Don't expect a 20-point day out of Dalton, but he should be good for 200+ yards, a couple of scores and an INT or two.
Orton, on the other hand, has his back against a wall in Denver. Broncos fans want Tebow to start, and Orton hasn't done much to silence them. A road game against a porous Chargers secondary might be just what the doctor ordered. Is he going to shred San Diego the way Tom Brady did in Week 2? Almost assuredly not. But I like Orton's chances of finding the end zone at least once, and I think he'll have a lot of success connected over the middle. An 18-point ceiling is not out of the question; Orton has wowed us before.
Running Back
Alright so you've shelved Hillis, Rice and S-Jax (three of the few remaining legitimate workhorse running backs), and hopefully you've got a good third running back to plug in. I'm sure you prepared for this. You might want to gamble on Stevan Ridley's matchup against a tough Jets run defense, but I'd advise against it.
Here's where you want to stay safe and start the guys you drafted. Here are some bench running backs I really like.

Michael Bush, RB (Oakland)
Dexter McCluster, RB/WR (Kansas City)

Even as a reserve, Bush has been making a difference for fantasy purposes. He's finding the end zone and getting work in the passing game. In a six-team bye week, that counts. And against the Houston Texans, who've given up 4.9 yards per carry this season, it counts even more.
McCluster's role in Todd Haley's offense is slowly — very slowly — growing. A matchup against a vicious Indianpolis pass rush might force Haley's hand here. I don't expect Matt Cassel to have all that much time in the pocket, so I see a lot of checkdowns and dump-offs coming McCluster's way. Those in PPR leagues, take note. The yardage may or may not count for much, but McCluster will be good for 6-8 points on receptions alone.
Wide Receiver
So who are we really losing here? Brandon Marshall, Anquan Boldin, Dez Bryant, Santana Moss... In most cases, these are your second wide receivers (maybe Marshall was your top dog, and if so, you've got some brass ones), so replacing these guys shouldn't be too difficult. Here are some depth receivers that I like the looks of this week.

Antonio Brown, WR (Pittsburgh)
Victor Cruz, WR (New York)
Jacoby Ford, WR (Oakland)
Jacoby Jones, WR (Houston)
David Nelson, WR (Buffalo)

I'm hoping you've got some better options than this on your bench, but you never know with you guys. Point is, you probably do. But these guys have the potential to outperform the guys on your bench. If you're 0-4 and feeling frisky, take a chance on one of these talented wide outs.
Brown is rising fast as Pittsburgh No. 2 receiver opposite Mike Wallace and is facing a Titans secondary that will have to focus all of its attention on containing Mike Wallace and bottling up the lanes for the rather explosive Isaac Redman. Victor Cruz, meanwhile, has justified his presence as the Giants' slot receiver. Seattle's pass defense isn't bad, but it's exploitable, and Eli will be looking in several directions to try and help vault the Giants into sole possession of first place.
The two Jacobys offer similar upside in terms of skillset, and this week, they'll both get to play No. 1 receiver as their respective offenses face off. Both quarterbacks will look to stretch the field, and this game has the makings of a shootout. Eighty-plus yards and a score isn't unreasonable for either of these guys, maybe both.
Finally, Nelson remains a top guy on my radar, this week more than others. Buffalo's offense has surprised a lot of people, and I think Ryan Fitzpatrick and company will expose the many shortcomings of the Eagles' secondary. Nelson will definitely play a significant role in that.
Tight End
Finding a backup tight end is easily one of the single most infuriating aspects of fantasy football. Part of you wants to just draft two tight ends with different bye weeks just to avoid this situation. Well, if you didn't here are two options to consider in the event that you've been enjoying Jason Witten's numbers thus far, you've been riding the Fred Davis wave or you've been pinning your hopes on Ed Dickson.
Jared Cook, TE (Tennessee)
Jermaine Gresham, TE (Cincinnati)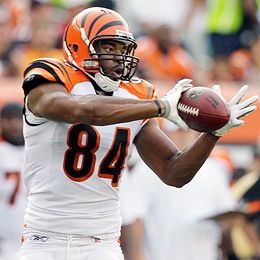 Honestly, if you need a fill-in tight end for this week, you can't go wrong with either of these guys. Both are coming off their best weeks of the season, and both have juicy matchups.
Gresham has some serious potential to pick apart the Jacksonville secondary, and he'll be a safety valve for Andy Dalton as he looks for receivers in the Jaguars' Cover 2 scheme. Sixty yards and a score would be my baseline projection, but 100 yards wouldn't be entirely unforeseen.
As for Cook, it's a bit more of a gamble. Yes, the Steelers have the best pass defense in terms of yards allowed, but look a little closer. Against tight ends, the Steelers have actually been middle-of-the-road. Against two playmaking tight ends, Ed Dickson and Owen Daniels, the Steelers have given up 14 receptions for 195 and two touchdowns. The upside is there, but Hasselbeck will need to find Cook first.