Going Deep: Week 6
---
Another week is in the books, and that's one more week where the NFL has two unbeaten teams — the Lions and Packers.

If you haven't already noticed, I'm a bit of a movie guy, and I like to actually go to the theater. I'm a traditionalist, I suppose, in that regard. For me, nothing beats a Friday night at the movies, soda in one hand, popcorn on your lap and a girl on your arm. Seriously, I would have no qualms if that was every single one of my Friday nights from now until I die.
So this time of year, as Oscar season fast-approaches, is particularly fun for me. October is when all the pedigree films start pouring into theaters. But this week, it's kind of slim pickings. So slim, in fact, that our pickings are actually recycled.
This week, audiences get to choose which remake they want to see: the cinematic abortion that is the 2011 version of Footloose or the cinematic head-scratcher that is the 2011 version of The Thing.
First off, if you're considering seeing The Thing this weekend and haven't seen the original, do yourself a favor and don't. See the original first. It's well worth it, and it's on The Movie Channel practically once every week. You know how there are TBS All-Stars (The Replacements, A Time to Kill, anything with Kevin Bacon)? Well the 1980 version of The Thing is a TMC All-Star.
Secondly, if you're considering seeing Footloose, please take the $10 you would've spent on a ticket and donate it to charity. The world will be a better place for it, and it is Breast Cancer Awareness Month, after all. The heavenly Julianne Hough is not enough of a reason to waste two hours of your life digesting a movie that wasn't all that good the first time it came out. And that version had Kevin Bacon in it.

Five for Hindsight
A look back at Week 5

I remain impressed, and vocally so, by the Buffalo Bills. The way they handled the Eagles on Sunday was easily one of the most balanced and effective performances of Week 5. It's true that defenses are finding ways to limit Ryan Fitzpatrick's effectiveness on the long pass, but as long as Fred Jackson keeps the defense honest and allows Fitzpatrick to stretch the field, I'm not too worried about this team. The talent is there, and the coaching, thus far, hasn't faltered.


You could say the same thing about the 49ers but, quite frankly, I've watched enough football to know that this isn't exactly who they are. They aren't an 11- or 12-win team, but they very well might be a 10-win team, especially if Kendall Hunter can keep Frank Gore fresh. And, dammit, I hate to say it, but I kind of buy Alex Smith in this kind of offense. He'll never head up a West Coast-style offense, but as a brief complement to the run, I think Smith can be effective. He's limiting his turnovers (one INT and three fumbles through 5 games) and he's hitting his receivers, who are running crisp routes, for once.


I don't want to say that, by endorsing Tim Tebow's rise to starting QB, I condemn Kyle Orton in some way. I just think it's time for Denver to see what they have (or don't have) in their first-round pick. At this point, you can't say that Orton is appreciably better than Tebow, and so you have to make a change, if only temporarily. I don't think Tebow will be very successful as a passer, but I think he'll help himself more often than not. However, I wouldn't be surprised if Tebow becomes Vince Young 2.0.


I don't understand why America unconditionally thought the Jets were a Super Bowl team. Their QB is young and unpolished, their receiving corps is aging and, honestly, not that good. Their defense is good, but prone to bouts of losing focus. And, I think more importantly, their running game isn't reliable. Teams have been able to overcome one or two of those maladies en route to a decent season. But all those problems converging on one team at one time? It's a recipe for mediocrity.


I think you'd be hard-pressed to find an objective person who believes the Lions are a better team than the Packers. I think the Packers are on an entirely different level than the 31 other teams in the NFL. But I think, over the next few seasons, these two teams will be at the pinnacle of the NFC. And it won't be long before we view the Lions as the superior team. Matthew Stafford is a future NFL superstar, we haven't seen Calvin Johnson reach his prime and Jahvid Best remains one of the most potential-laden players in the league. And then there's that much-ballyhooed defense. Just seems like an obvious team on the rise, right?

Five for Foresight
A look ahead to Week 6

It's essentially put-up-or-shut-up for the Eagles when they go against the 3-1 Redskins. There's a monumental difference between a 2-4 Eagles team heading into a bye week fresh off a key divisional win and a 1-5 Eagles team heading into a bye week having just lost to the *gulp* 4-1 Redskins. Remember that line Dennis Quaid delivers in The Day After Tomorrow, "We've reached a critical desalinization point." This is the Eagles' critical desalinization point.



How crazy would it be if the Packers lost to the Rams? On the scale of crazy sports outcomes this year, wouldn't that have to be Glenn Close in Fatal Attraction-level crazy? For the Rams to march into Lambeau and slay Goliath with their dinky dump-off passes and mediocre running game. I mean, obviously this won't happen, but it's fun to dream, right?


I think this is the week where we see what Stafford and the Lions can do. They draw a tough 49ers defense, particularly tough on the run, which is one area the Lions find themselves a little unstable. If Best struggles out of the gate, it will be tough for Stafford to keep the San Francisco secondary guessing. I think the Lions scrape out a win, but it won't be an easy one.


The Patriots-Cowboys game sounds so good on paper that I'm just going to go ahead and expect it to be the sloppiest game of the week. My mind wants to believe this will be an offensive shootout, but watch it turn into a bunch of stalled drives and a bunch of turnovers.


I can't even verbalize just how boring the Sunday and Monday night games are going to be. Chicago versus Minnesota is just going to be run, run and more run. It will be fun to watch Jared Allen slam Jay Cutler into the ground three or four times, though. Meanwhile, I'm considering dubbing the Dolphins-Jets game The Interception Spectacular. I'm setting the over/under on INTs in that game at 6.5. I wouldn't blame you for taking the over.

The Tip Drill
Because, y'know, I give you fantasy tips. Get it?
We've survived the first bye week, everybody. Hopefully we're no worse for the wear. I personally went 3-2 this week, and was pretty happy with my main bye-week fill-ins: Jermaine Gresham, Pierre Garçon and Doug Baldwin. That's right, I picked up Baldwin in a 20-team IDP league and started him in my flex. It was awesome.
This week, I want to focus on three players that I'm choosing to invest heavily in for the rest of the season. Some of these players might be available in your league and, if so, you should pick them up (I'll try and include examples of players I'd drop for these guys). If they're already owned in your league, think about your team's strengths and weaknesses and consider whether you should make a play for them.

Quarterback
The obvious guy to list here would be Tebow, and there's no doubt he'll be the most-added player this week on ESPN, Yahoo!, NFL.com, etc. And do get me wrong, he's a worthwhile player to roster in fantasy. But for our purposes, he's a little too popular. Meaning that he's probably already owned and the owner probably thinks he's the next Cam Newton.
Instead I'd rather discuss Sam Bradford, who's currently occupying the bottom tier of back-up QBs in fantasy. His stats aren't all that pretty — 3:1 TD:INT, 6 fumbles, three sub-200-yard efforts in four starts, completing only 49.7% of his passes — but there's reason to hope. For one, Bradford's schedule clears up quite nicely after this week's matchup against Green Bay. In weeks 7-12, Bradford draws the Cowboys, Saints, Cardinals twice, Browns and Seahawks.
His receivers aren't world-beaters (far from it, actually), but Bradford is a traditionally accurate passer (60% in his rookie season, 68.5% in two full seasons at Oklahoma), and Steven Jackson should be able to create more vertical opportunities than he has thus far this season.
I'm not saying Bradford will elevate himself into a reliable, every-week starter. Not even close. But he'll be a viable bye-week fill-in this year, and those in keeper leagues should absolutely stash him now before his statistics begin their upward climb.

Running Back
I was tempted to talk about Knowshon Moreno here, but I think too many owners are holding onto him, which is the right move. I don't think Willis McGahee can hold the job down rest-of-season, and I believe John Fox will begin to re-integrate Moreno into the offense, at first on passing downs and then, slowly, as a runner; Denver is just playing it cautiously with Moreno post-injury. So if you can get Moreno at 75% of his draft-day value, I'd do it, especially if you're stable at running back. I can't imagine a scenario in which, both healthy, McGahee ends the season with more fantasy points than Moreno.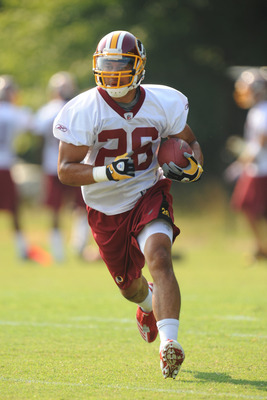 But for the purposes of this section, I'd like to talk about Washington's Roy Helu, who's probably owned in most (if not all) keeper leagues. But as a standard-league "stash running back," the kind of guy you pick up in the hopes of good returns down the line this season, I think Helu is the best option out there.
I don't put a lot of faith in running backs in a Mike Shanahan system, and rightfully so, but Helu is the kind of runner who can thrive in that environment. Shanahan likes to use his running backs in change-of-pace situations, and Helu has exhibited the ability to fill that role in multiple scenarios: He's a power runner, averaging 5.25 YPC thus far this season, and he's able to catch passes out of the backfield, nabbing five balls for 55 yards so far.
When you're talented, the system you're in begins to matter less and less, but the real ace up Helu's sleeve is that the guy(s) in "front" of him, Tim Hightower and Ryan Torain, have never been able to extend their success in the NFL beyond the span of a few starts. Both are injury-prone, predictable runners. Helu definitely has a leg up, it's only a matter of time before opportunity meets ability here.

Wide Receiver

I'm going to let my Tar Heel bias affect me for a second here. If there's one wide receiver I'd feel confident in saying will surprise everyone from this point forward, it's Greg Little.
Now, I know what you're thinking: How can I possibly endorse a wide receiver who struggled to make the starting squad out of camp? Simple. It's taken Little just four weeks to go from No. 4 on the depth chart to No. 2. Because in those four weeks, Little's role has steadily expanded (he's gone 3-5-5-8 in targets this season) and he's pulling in two-thirds of the balls thrown his way, a better percentage than the likes of Jordy Nelson, Miles Austin and Dez Bryant, to name a few, and on par with Marques Colston. For the record those guys all have a similar number of targets (28, 24, 17 and 18, respectively) to Little's 21.

Another thing I like about Little is that he's already ammassed two red-zone targets (and two red-zone touches, for that matter) in his limited action. He's an athletic, 6'2" receiver with improving hands and the ability to run good routes. On an offense that likes to spread the touches around, his ability to get open and deceive defenders is going to help him become one of Colt McCoy's favorite targets, both between and inside the 20s.
In case you needed extra convincing, take a look at his matchups through Week 12: Oakland, Seattle, San Francisco (that's a toughy), Houston, St. Louis, Jacksonville and Cincinnati. There's one, possibly two, matchups I fear in that schedule. The rest are ripe for the exploiting. Little's probably available in your league, so pick him up before he blows up.
Harry writes about baseball, football and fantasy sports for I Hate JJ Redick. He also compiles the Man Dates column, highlighting the best in popular culture for the upcoming month. He once saw JJ Redick in a movie theater and heckled him until he ducked out like a wimp. You can follow him on Twitter at @hrkaplowitz. To enjoy Harry's non-sports side, visit his blog.