Sock it Thome!
---
This week Jim Thome did what only seven other guys have done before him, he hit his 600th homerun in his major league career. Those seven are Babe Ruth, Willie Mays, Hank Aaron, Barry Bonds, Sammy Sosa, Ken Griffey Jr., and Alex Rodriguez. This is a pretty stout list to be associated with if you ask me. And it seems that this year any milestone has to be done with extreme flair. I mean did anyone foresee Derek Jeter going 5 for 5 the day he hit his 3,000 hit? Or the fact that he went YA YA? And that he was going to have the game winning RBI? No chance. Any one of those statements sounds outlandish by its self let alone all together. The truth really is stranger then fiction.

Then Jim Thome comes along and swats his 600th homerun. All the stats that went along with Thomes are just as crazy. He hit number 599 and 600 in back to back at bats. Only player out of the 600 club to do that. Also he is the only player to hit number 300, 400, 500, and 600 on different teams. Only Babe Ruth and Barry Bonds had a higher OBP then Thome. And the most impressive stat, in my opinion, is that only Babe Ruth hit 600 in less at bats then Thome.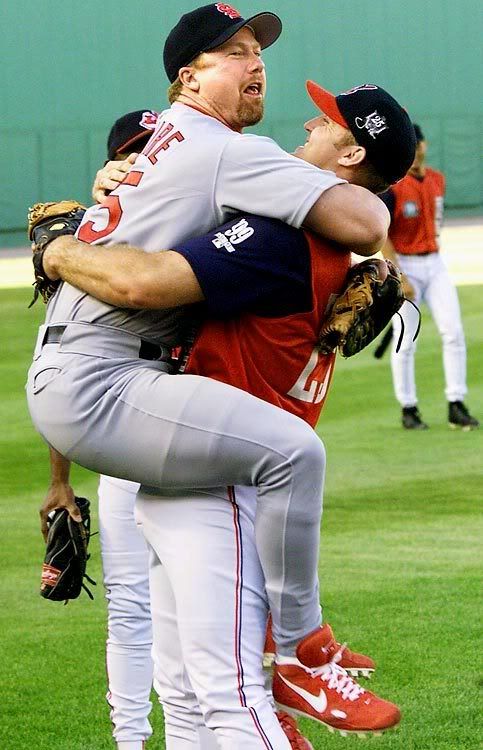 And the biggest debate that this has sparked is "Is Jim Thome a Hall of Famer?" How is this even a debate? Of course he is. HE HIT 600 HOMERUNS. A list that consists of people you can count on two hands in a span of 160 years. The only thing that would or should keep him out of the Hall is if it comes out that he did steroids. And to be honest I wouldn't even care if he did since so many players in that era used PEDs. The only true debate is whether or not he makes it on the first ballot, which I doubt he will. The writers that vote players in are such a bunch of caddy old women who nitpick every little detail in a player's career.
The only true knock on Thome is that he is a stat collector, that his whole career is based purely on longevity. But that is true with all of the great ones. Nolan Ryan played until he was 46 years old. The two players, although not in baseball, that remind me of Thomes career the most are Brett Favre and Dan Marino. Both played damn near forever and amassed a ton of records, and if it weren't for Desmond Howard they would both be without a championship. You can't discredit a guy for staying healthy and playing for a long amount of time. And it's not as if this is Thomes only achievement. He's no bum. He is a five time all star. He has won a Silver Slugger and AL Comeback Player of the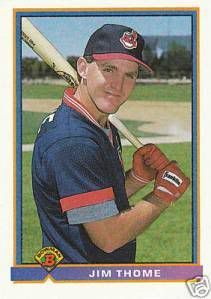 year. He is 8th on the all time homerun list. Led the NL is homeruns. And, my favorite stat, he is tied for the lead of all time walk off homeruns.
The fact that I am even sticking up for the guy is sacrilegious as a Braves fan. Any player that plays in the City of Brotherly Love can only win me back by winning a World Series in Atlanta. But Thome just seems like a great guy. You never hear about him being a jerk and all anyone ever says is that he is just the bee's knees. And if the NL had a designated hitter I'd take him in a heartbeat, you get a team leader and a clutch crunch time hitter. Hopefully Thome will get a World Series before he calls it a career and gets his Charles Woodson "finally" moment.